Frequently Asked Questions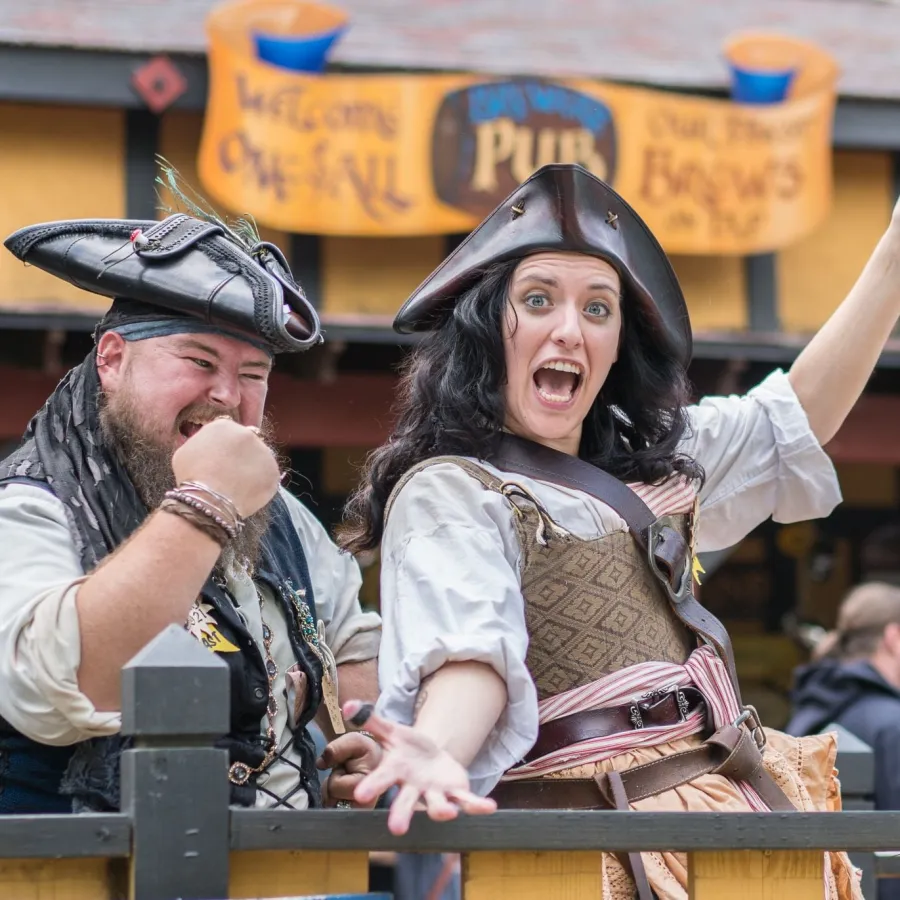 2023 Georgia Renaissance Festival
The 2023 Georgia Renaissance Festival runs April 15 through June 4, Saturdays and Sundays. Hours are from 10:30 a.m. until 6:00 p.m. We are open rain or shine!

Keep reading for common questions and tips & tricks for first-time fair goers.
Frequently Asked Questions
What are the dates and hours?
The 2023 Georgia Renaissance Festival runs April 15 through June 4, Saturdays and Sundays. Hours are from 10:30 a.m. until 6:00 p.m.
What is the admission cost?
Adults: $29.55 at the Gate; $26.95 - $28.95* online

Children (6-12): $16.56 at the Gate - $13.95 - $15.95* online
Children 5 and under are always free
Senior (65+): $26.77 at the Gate only




*Ticket prices increase during premium purchasing days - Friday through Sunday.
Is there a charge for parking?
NO - Parking is FREE courtesy of our Parking Sponsor - East Point Convention and Visitors Bureau!

Where are you located?
The Festival is located just 8 miles south of Hartsfield-Jackson Airport on I-85 at exit 61 (Fairburn, Peachtree City Exit). Click here for directions.
Street Address:
6905 Virlyn B. Smith Rd
Fairburn, GA 30213
NOTE: Your map app will bring you to our Employee/Delivery entrance. There is no public parking at that entrance - go further down to our Main Parking Lot - look for the flags!

What is included with the admission price?
All entertainment shows, the Jousting Tournaments, contests, the Children's Play Kingdom, Juggling School, Reptile Farm, and much more! You may choose to purchase souvenirs, arts and crafts, food, beverages, or games and rides.
Can we re-enter the Festival later the same day?
YES - If you need to leave the village and re-enter the same day, have your hand stamped at the Exit Gate.
Can we bring food or drink into the Festival?
NO - Health and safety regulations prohibit bringing outside food or drink inside the Festival gates. Exceptions are made for people with food allergies, medical conditions, food sensitivities, and young children, i.e. infant formula. Each guest is allowed to bring in one 16oz. water bottle.
Do you offer a military discount?
YES - On Memorial Day Monday all active and retired military (with ID) get in free! Also, up to four accompanying family members can get in for just $15.95 each. Discount is only available at the Festival Box Office.
Is the Festival accessible for guests with disabilities?
The Festival is an outdoor event, held in a natural setting. Wheelchairs and motorized wheelchairs are welcome; however, guests may find some areas of the grounds challenging to travel. Pathways vary from grass and dirt to some gravel, and there are concrete paths in areas with a steeper incline.
Reserved parking for guests with disabilities is available and several restroom areas are available as noted on the Festival map.
Do you rent wheelchairs or wagons?
YES - Wagons and non-motorized wheelchairs are available for rent outside our Front Gate at the Belrose Shop.
Can we bring our pet to the Festival?
NO - Due to the many performing animals in the Festival, no pets are allowed in the village*.
*Pets are allowed on our designated Pet Friendly Weekend - restrictions apply.
Are Service Dogs allowed at the Festival?
YES - Service Dogs are allowed provided they are kept under control by their owner and have proof of up-to-date rabies vaccination. Service Dogs in Training are allowed so long as such trainer is identified as an agent or employee of a school for seeing eye, hearing, service, or guide dogs. Emotional support animals or other pets are not allowed to enter the Festival.

What type of clothing should we wear to the Festival?
This is an outdoor event, so you should dress casually with comfortable walking shoes. We reserve the right to refuse entry to anyone not properly dressed or dressed in a manner that may be offensive to other guests. Shirts and shoes are required!
Can we wear costumes?
YES - We love to see our guests dressed in Renaissance costumes. Costume rentals are available outside our Front Gate at the Belrose Shop. However, we reserve the right to refuse entry to anyone not properly attired or dressed in a manner that may be offensive to other guests. Shirts and shoes are required!
Guests are not permitted to perform for patrons and/or accept tips or charge for photographs out of respect to the Festival's working cast of performing artists. Festival actors can be identified by a special "OFFICIAL GARF CAST" badge worn on their costume.
Can we bring our musical instruments?
The Festival hosts a variety of musicians and performers whom depend upon the Festival as a means of earning a living. Furthermore, as a performance venue with paid admission, the Festival adheres to strict music copyright laws.
It is for these reasons that the Festival does not permit attendees to bring in or perform on musical instruments of their own.
What happens if it rains?
We are open rain or shine. It is extremely rare that we close on a Festival day.
Is there an ATM?
YES - We have multiple ATMs. Two are located just inside the Festival Front Gate, two are adjacent to Olde Towne Food Court, two others are located next to the First Aid Building, and two more are next to our King's Food Court.
Are there hotels nearby?
There are several hotels very close to the Festival site that we recommend:
How can I get involved with the Festival?
The Festival is staffed by many local people in a variety of roles. We hold auditions for actors, musicians, and our Apprentice Program in January, and support cast member applications are taken in March. You can find out the exact dates and times by visiting our Seasonal Employment page.
Weapons Policy
The Festival bans firearms of any type on our premises. This includes those attendees who maintain a Georgia Weapons Carry License or a similar permit from another state. No functioning projectile weapons - including water pistols, silly-string guns, and ping-pong pistols.
If your costume includes a sword or dagger it must remain properly sheathed and peace-tied. Present yourself to the Security person at our Front Gate. Drawing of any type of weapon at any time is NOT allowed. Broadaxes, claymores, maces, halberds, tipped arrows, or pole weapons are NOT allowed.
We did not find your search. Please try another entry.